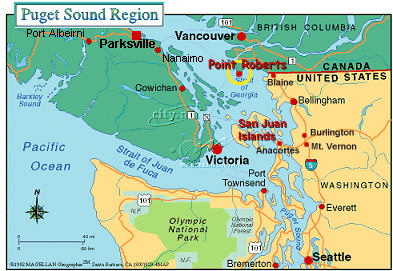 Directions
From Portland, Tacoma, Seattle, Bellevue, etc.,

Take I-5 North from Seattle to Peace Arch Border Crossing...about 90 miles. Proceed North on Hwy 99 to Hwy17 Tsawwassen exit, then west another 10 miles to Pt. Roberts Border crossing.

From Vancouver

South on Hwy 99 to Hwy17 (about 20 miles) west at Tsawwassen exit then on through Point Roberts Border crossing.