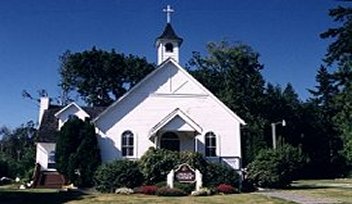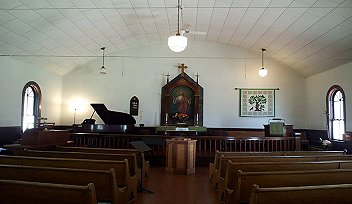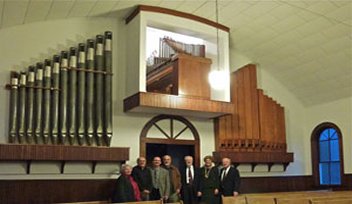 Church News...

By Jean Barrinton
Fall is coming, Bev Mar wrote last month, and with it a new season. As the writer of Ecclesiastes said, "To everything there is a season and a time for every matter under heaven."

We at Trinity, like the rest of the world since Covid, have been reassessing our life in this part of the world. Sometimes, a time away from what we are used to can give us new vision and open us to new ideas. In the early months of Covid there was no gathering of community for worship, then when we were allowed to open the doors, the doors were shut because of a dangerous building. When it was decided that worship in the parish hall would be safe – we had to figure out what that would look like with no organ, just a piano, folding chairs and a makeshift altar. We just went with what we had and what we knew.

By early December of 2022 we were allowed back into the sanctuary for worship. We were excited! For several years, Father Chuck Cannon and Pastor Gina Gaudet led worship at Trinity, each serving two weeks a month. Sylvia Schoenberg for almost her entire life was our organist. Sylvia, at 90, retired. Father Chuck did his last service on Christmas Eve 2022 and also retired. Pastor Gina was on the Canadian side of the border. If worship was to happen, it was going to have to look different.

Minister Bev Mar, who had done several meditations at the church prior to Covid was willing to try to do those on some Sundays for worship. Lucy Williams learned about Jazz Vespers and brought that to our worship repertoire. I was asked to come back and lead some services. New musicians had moved into the community. The spirit was moving among us.

Once the border opened again, Pastor Gina was able to return. She covered two services a month, Bev and I each took one and Lucy arranged Jazz Vespers to happen when they could. Worship looked very different than it did prior to the Covid shutdown.

And we all liked it! It felt new and fresh and like the spirit was blowing through our heads and hearts.

We talked, we prayed, we wondered what this new thing that was happening was about. We talked about what we would like our congregation to be for others and for ourselves. We reflected on God's word (which we do not interpret literally but do consider sacred). Matthew 28:37-40 Jesus says, "You shall love the Lord your God with all your heart and with all your soul, and with all your mind. This is the first and greatest commandment. And the second is like it: You shall love your neighbor as yourself. On these two commandments hang all the law and the prophets." And Micah 6:8, "What does the Lord require of you, but to do justice, and to love kindness and to walk humbly with God."

We have come to this vision:

We believe the purpose of a congregation beyond worshiping God, is to be a loving, helpful, welcoming place for all; regardless of gender, age, race, sexual orientation, those with religious history and those with none at all. We strive for the inclusivity that Jesus taught. We also want a community that is free of violence and the threat of violence, in word and deed. A safe place for all.

We believe worship is intended to be:

Where worship and praise are given to God in various ways that are meaningful to a variety of people; A place for all people to develop their spirituality and their relationship with God in ways that are meaningful for them; Encouraging of people's God given gifts, so those gifts may be shared to God's glory with each other and the world.

In light of this vision, we will, over the coming few months, be restructuring our worship in the following way:

1st Sunday: Contemporary Worship with Pastor Gina

2nd Sunday: Interfaith Worship with Interfaith readings, concepts and themes with Minister Bev

3rd Sunday: Theme or Healing Focused Worship facilitated by one/all of Trinity pastors and/or a guest

4th Sunday: Traditional Liturgical worship and communion with Pastor Jean

5th Sunday: Jazz Vespers hosted by Lucy Williams

We invite you to join us every Sunday or on the Sunday that speaks to your spirituality, as we all learn ways to be in closer relationship with God and each other. Worship begins at 11 a.m. at Trinity Church, 1880 APA Road. This is God's church and there is a place for you here.