| | |
| --- | --- |
| Trinity Chamber & Concert Series... | |
The Trinity Chamber Series hosts both amateur and professional musicians in this ongoing concert series. Since its inception in January 2009, over 200 North American musicians have provided "by donation" concerts to area residents and visitors. Averaging eight to 10 concerts a year the series hosts a wide array of musical talent, and genres have run the gamut from baroque recorders to budding opera singers with jazz, classical pianists, tuba quartets and all of ilk's of other musical groups filling in the mix.
Concert goers can enjoy the music free of charge with the option of donating toward the current "project." Turning the church into an functioning emergency shelter for the town and supporting the expense of the children's summer music camp have been two of the Chamber Series projects. Other projects may be earmarked for future concerts.
UPCOMING CHURCH EVENTS & CONCERTS

THE POWER OF THE BIBLE Wednesday's 6:30 pm
Songs, study and sharing are the three main ideas for these sessions. Please join us for a lively time

Community Choir Every Sunday at 1:00 pm at Trinity Community Lutheran Church
This is a community choir and is open to all who would like to sing. Please contact Andy Mar for further details. 945-0793

Summer Music Camp Jul 31- Aug. 6: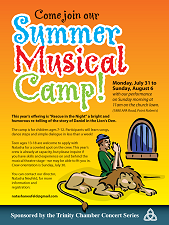 Interested musicians can contact Lucy Williams the Concert Series Producer at 360.945.2883 or by email.
Trinity church has had a choir for many years. Tasha Neufeld became the director of music four years ago and began encouraging people to join the choir to where, now the choir consists of up to twenty people with four voices – tenor, soprano, alto and bass.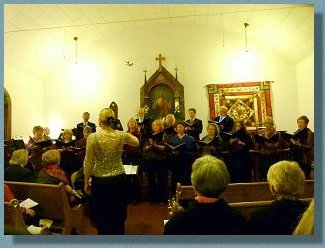 The choir meets on Thursday evenings at 7 pm and everyone is welcome to attend – those who have never sung are encouraged to learn and those with experience can further expand their horizons, all under Tasha's tutoring and direction. Members come from as far away as Seattle and at least half are from the Vancouver area.
The choir usually performs special music each Sunday; the routine is to meet at ten in the morning, rehearse for half of an hour before the service. Members are becoming increasingly comfortable with this seemingly rapid routine, with experience and diligent leadership.
There are normally two concerts each year at Christmas and in the summer, and the choir sings in the background during the children's summer musicals. A special concert was held last May as a fund raising event for a person in need of medical expense contributions. Local musicians often play with the choir including the Brass Belles wind ensemble and accomplished piano, violin, flute and oboe players.
Listen to our Choir:
Praise the Lord
How Beautiful upon the Mountains
Watch Videos:

Giovani Lieti from "Le Nozze di Figaro" by
W.A. Mozart arranged
by Patrick Liebergen
Hallelujah by Leonard Cohen arranged by
Roger Emerson
Endeavor Launch -
Time to Say Goodbye (Con Te Partiro).
Baby It's Cold Outside
by the Trinity Community Choir.
When A Child Is Born by the Trinity Community Choir.
Cantar by the Trinity Community Choir.